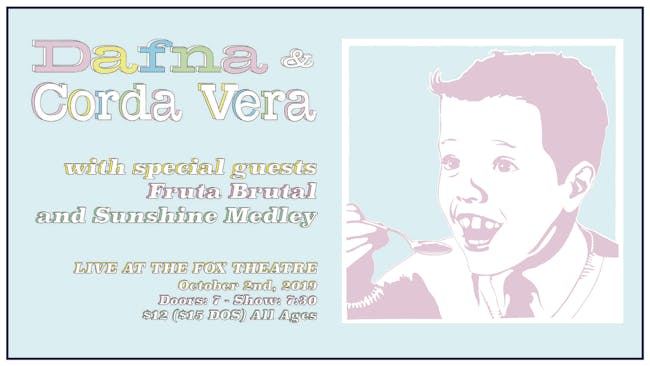 Dafna
Corda Vera
Fruta Brutal, Sunshinemedley
Fox Theatre
$12.00
Tickets At The Door
Dafna + Corda Vera with Fruta Brutal, Sunshinemedley at Fox Theatre
Tickets On Sale Now!
Radio 1190 & Boulder Weekly Present
Ages 15+ without a parent
All tickets are non-exchangeable and non-refundable following purchase
Listed price does not include tax and service charge
Price is the same online, over the phone, or in the Box Office.
NO BAGS
All tickets are General Admission (GA) with limited seating available. If you require accessible seating or other accommodations, please purchase your GA tickets and reach out to Daniel@z2ent.com to help us make your visit as enjoyable as possible.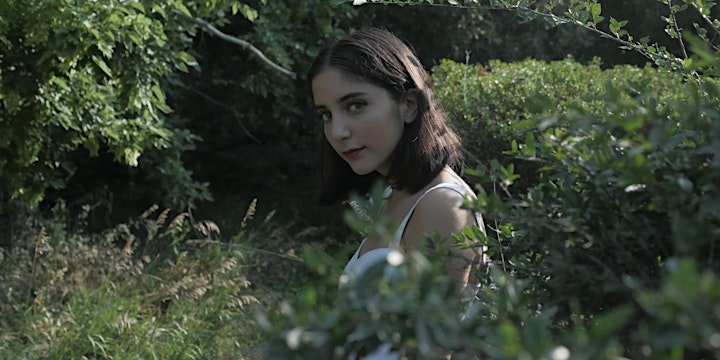 Dafna
Combining sounds of Folk, Alternative, and Electro Pop, Dafna is an 18 year old singer/songwriter and producer from Boulder, CO. Practicing classical piano since the age of 4, Dafna's interest in music began early on, but it wasn't until she was 11 years old that she began writing and singing music. At the age of 15, Dafna was a finalist in eTown's 4th annual Handmade Song Contest, and got the opportunity to have her song, "Fever", professionally recorded. It wasn't until after she graduated high school at the age of 17, however, that Dafna began producing and recording her own music, which led to the subsequent release of her first single, "if you're a dove", a "hypnotic blend of folk and minimalist electronic pop", in January 2019 (Amelia Vandergast, A&R Factory). Since then, Dafna has independently released another single titled "valentine" and a three track EP (titled "spirit"), garnering over 75,000 streams on Spotify alone as of June 2019. Dafna continues to play local shows with her own band, her unique sound (and sense of humor) allowing for an exciting and energetic show, with both time to sit back and relax, or get up and groove.
Website | Facebook | Twitter | Instagram | Bandcamp
Corda Vera
The premier Alternative/Indie Band straight out of Boulder, Colorado, Corda Vera has been dominating the house show scene, and making waves in the local community. With a mature sound, yet a persistent vibe of youthfulness, this group has been wooing audiences throughout the Denver-Boulder area, and can find themselves at home in almost any venue; Whether its a backyard, a living room, a ballroom, or a theatre, their unique sound creates the atmosphere, not the other way around. Following breakout performances in early 2019 on bills shared with nationally recognized artists, such as Still Woozy, Yeek, the Jive Tribe and living legend Hazel Miller, the band finally had a chance to sit down this summer and record some of their tunes. Available now on all streaming platforms, Waiting Pt. I was recorded, mixed, produced, and mastered in house (literally), and is the first single to be released off Corda Vera's upcoming untitled album.
Venue Information:
Fox Theatre
1135 13th St
Boulder, CO, 80302